We have ongoing ESOL English classes at Learn for Life Enterprise running throughout the year catering for the complete beginner to advanced level. To join email info@learnforlifeenterprise.com or phone 01142559080 or come down to see us.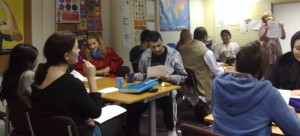 Tagged with: English Class • English classes • esol
Filed under: News • ESOL English Classes
Like this post? Subscribe to my RSS feed and get loads more!