Sheffield Cathedral has secured funding of £64,000 from the Skills Funding Agency as part of the new Community Learning Innovation Fund to deliver a series of creative art workshops over a 10 week period.
CreativeEdge: express yourself,   is in working partnership with: Sheffield Cathedral,  the Cathedral Archer Project,  Learn for Life Enterprise, Stories from the Street and Greentop Circus
Officially launches  Wednesday 7th November, at 18:30. These free sessions will be held in the Community Resource Centre at Sheffield Cathedral (entrance is through the big steel gates at the back of the Cathedral on Campo Lane).
All courses are completely free to join,  so whether you want to develop an existing skill or challenge yourself to something completely new, there is a creative course for you.  At the end of the project there will be a fantastic opportunity to showcase your new learnt/developed skills as part of Tramlines 2013. 
The Community Learning Innovation Fund, from the Skills Funding Agency and mangaed by NIACE, will contribute to the Government's objectives for community learning. The project will deliver new and creative learning opportunities, particularly for disadvantaged people to support social and economic well-being, digital inclusion and stronger familes and communities.  For further details about CLIF and related funding projects click here
If you would like to know more about the Creative Edge workshops please dont hesitate to contact us here at Learn for Life Enterprise, call in or email  info@learnforlifeenterprise.com  or phone 0114-2559080 or via email at CreativeEdgeSheffield@gmail.com or call 0114 263 6950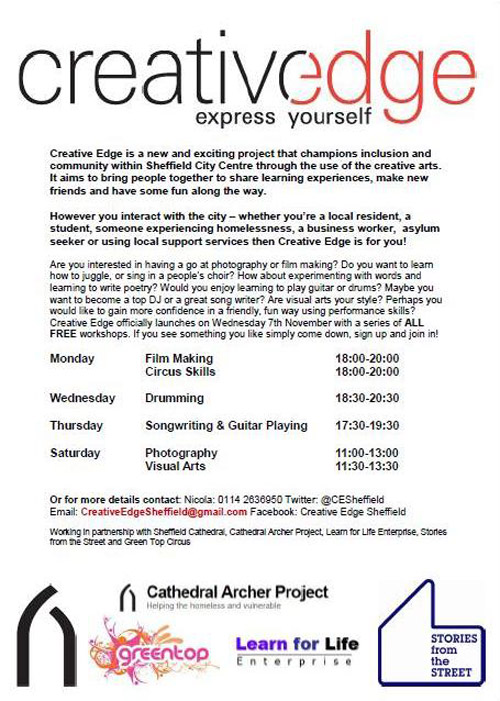 Tagged with: circus skills • creative courses • creative edge • drumming • film making • guitar playing • photography • song writing • visual art
Filed under: News • Music Lessons • Creative Classes • Arts and Crafts • Creative Edge • Drum Lessons
Like this post? Subscribe to my RSS feed and get loads more!